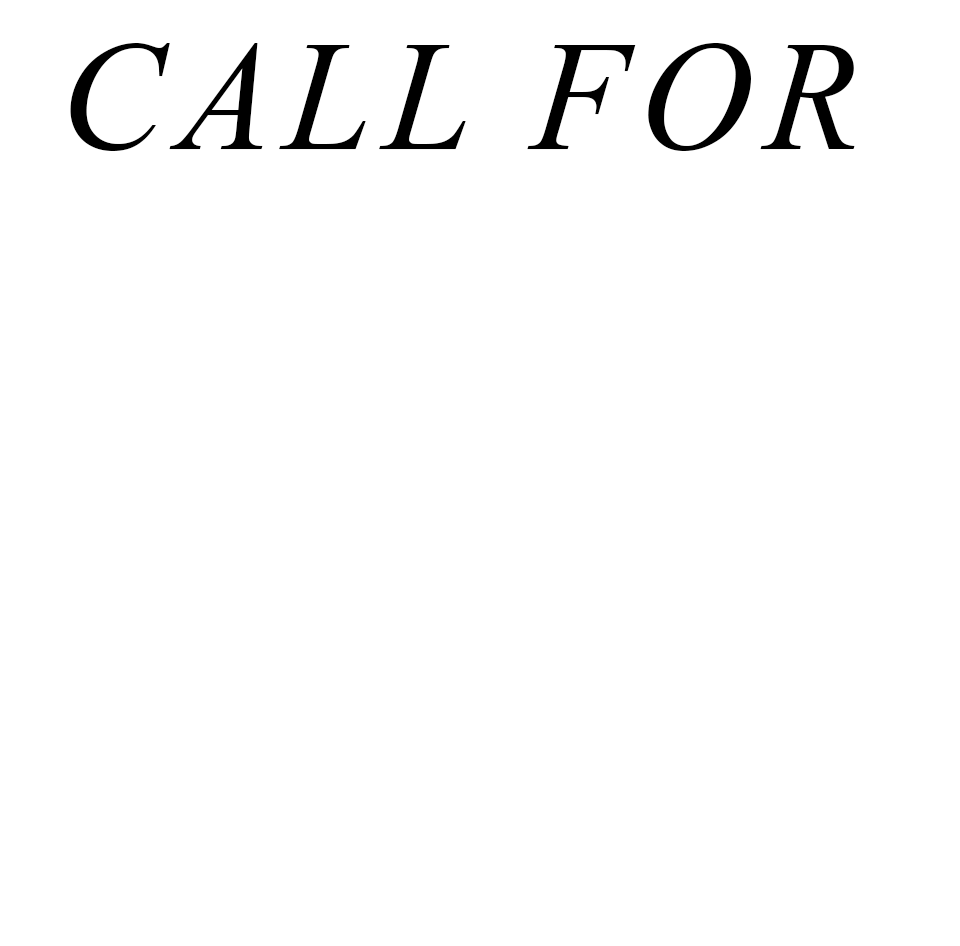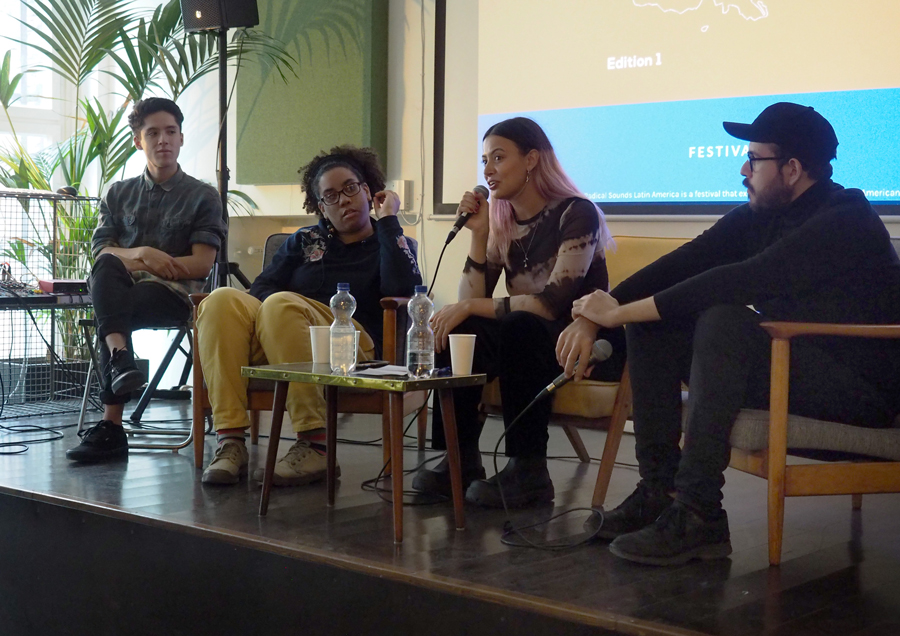 Panel discussion with Nathassia Arrua, Laura Robles, Moises Horta. Photo: Udo Siegfriedt.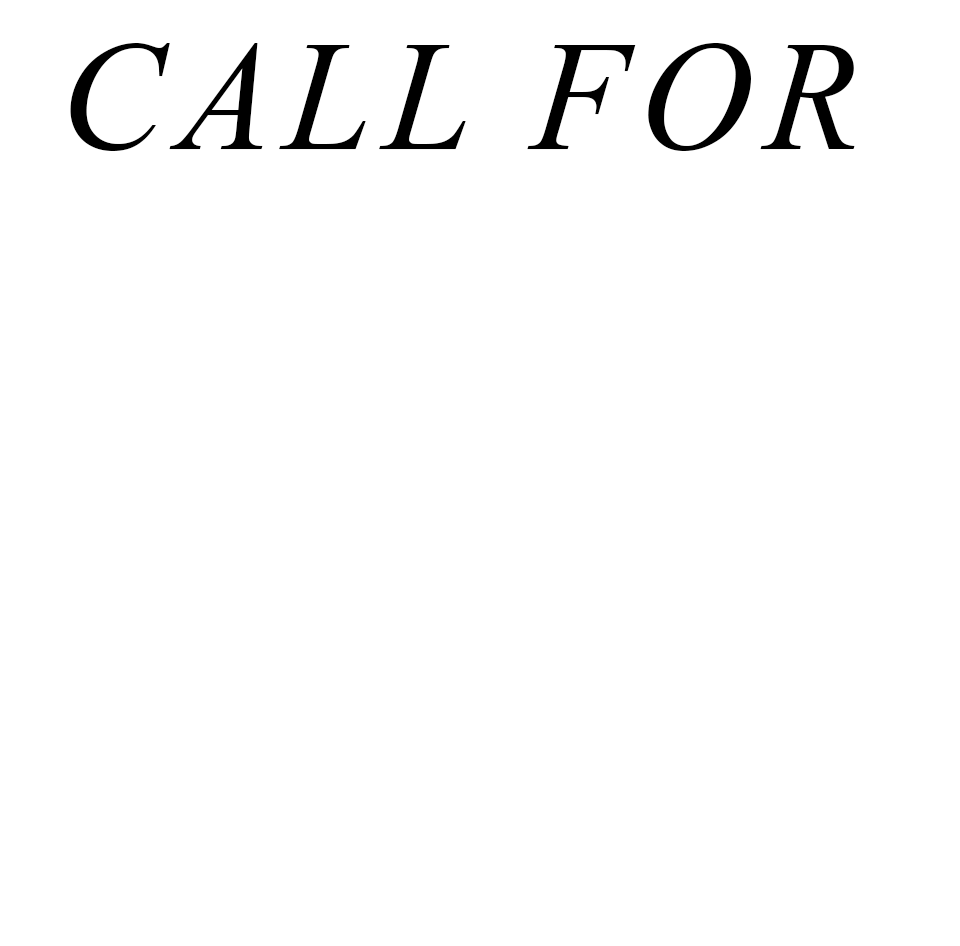 Dates: 01. – 03. October 2020
UPDATE: EXTENDED submission deadline: April 30, 2020
Languages: English and Spanish
(Versión en español abajo.)
Radical Sounds Latin America, a platform and yearly festival that explores new and cutting edge Latin American sounds, announces a call for papers for the discursive program taking place during the festival's second edition in Berlin. We are planning two days of panels, lectures, and workshops, as well as a printed publication.
The purpose of this conference is to contest colonial and hegemonic regimes of representation, appropriation, commodification, and alterity; to address questions of identity and migration through music, while embracing new ways of knowing and being-in-the-world. We welcome contributions from different lines of academic investigation, artistic research, and activism, as the encounter emphasizes the need for transdisciplinary dialogue. Researchers are encouraged to propose paper presentations, performative lectures, case studies, testimonies, practice-based and cross-genre formats delivered through other media, such as video.
If traveling arrangements can't be made, it is possible to participate only in the edited publication, and not in the conference.
We are looking for works that reflect (but are not limited to) the following topics:
• Soundscapes, sonic histories and sonic identities of Latin America
• Epistemic disobedience, resistance and activism in Latin American art and thought
• Decolonial aesthetics and practices
• Hidden historiographies
• Intersectional positions, queer, immigrant, feminist perspectives
• Indigenous ontologies and cosmologies
• Thought and sensing outside Western epistemologies
HOW TO SUBMIT
The deadline for submissions is April 30, 2020.
To apply for the open call, submit an abstract (max. 500 words) accompanied by a short biographical note, contact information, and details of professional affiliation, if any, in English or Spanish, in a Microsoft Word document to info@radicalsoundslatinamerica.com
All applications will be informed of the selection by the end of May 2020.
If your proposal is chosen, you will be invited to further develop it into a full exposition by July 15th, 2020, and will be given the option to participate in the edited publication.
For more information, please contact
info@radicalsoundslatinamerica.com
We are looking forward to receiving your proposals!
////////////////////////////////////
Radical Sounds Latin America anuncia una convocatoria de ponencias para el programa discursivo que tendrá lugar durante la segunda edición del festival, en Berlín. Estamos planeando dos días de paneles, conferencias y talleres, así como una publicación impresa.
Radical Sounds Latin America es una plataforma y un festival que explora nuevas ideas y sonidos latinoamericanos, creando un espacio de intercambio, pluralidad, experimentación e investigación.
El propósito de esta conferencia es desafiar los regímenes de representación, apropiación, mercantilización y alteridad coloniales y hegemónicos; para abordar cuestiones de identidad y migración a través de la música, incitando nuevas formas de conocer y ser-en-el-mundo.
Alentamos contribuciones de diferentes líneas de investigación académica, artística y activista, ya que el encuentro enfatiza la necesidad de un diálogo transdisciplinario.
Se alienta a los investigadores a proponer presentaciones de ponencias, conferencias performativas, ensayos críticos, estudios de casos, testimonios y formatos de género cruzado entregados a través de otros medios, como video.
Es posible participar en la publicación que editaremos, y no en la conferencia, para colaboradores que no pueden viajar a Berlín en las fechas planteadas.
Estamos buscando obras que reflejen (pero no se limiten a) los siguientes temas:
• Paisajes sonoros, historias e identidades sonoras de América Latina
• Desobediencia epistémica, resistencia y activismo en el arte y el pensamiento latinoamericano
• Estéticas y practicas decoloniales
• Historiografías silenciadas por el canon musical occidental
• Posiciones interseccionales, queer, inmigrante, perspectivas feministas
• Ontologías y cosmologías indígenas
• Sensibilidad y conocimiento fuera de la epistemología occidental
COMO ENVIAR UNA PROPUESTA
La fecha límite para las presentaciones es el 30 de abril de 2020.
Envíe un resumen (máx. 500 palabras) acompañado de una breve nota biográfica, información de contacto y detalles de afiliación profesional, en inglés o español, en un documento de Microsoft Word a info@radicalsoundslatinamerica.com
Todas las solicitudes serán informadas de la selección a fines de mayo de 2020.
Si su propuesta es elegida, se le invitará a desarrollarla en una exposición completa hasta el 15 de julio de 2020, y se le dará la opción de participar en la publicación.
Para obtener más información, póngase en contacto
info@radicalsoundslatinamerica.com